Studio Ghibli's popular theme song singer, Azumi Inoue and her daughter, Yuyu, are coming to J-POP SUMMIT!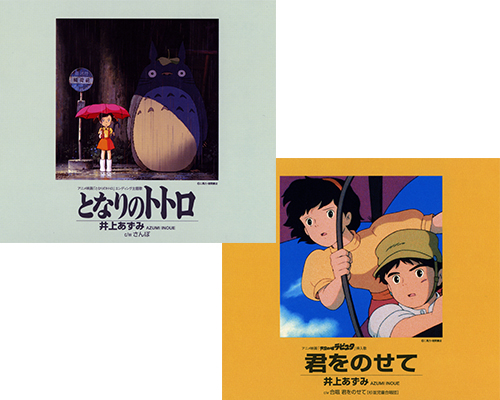 ▲ "Tonari no Totoro" (left) "Kimo wo Nosete" (right) CDs by Azumi Inoue*
Any Miyazaki's fans would agree that one of the greatest animation theme songs ever written is
Kimi wo Nosete
, composed by Joe Hisaishi for the epic adventure animation film,
Castle in the Sky.
Azumi Inoue has made a career performing many theme songs by Studio Ghibli, including My Neighbor Totoro and Kimi wo Nosete. By popular demand, single CDs of these songs were released from Tokuma Japan Communications.
Azumi Inoue and her daughter Yuyu, who is also an emerging singer, will perform live on the J-POP SUMMIT main stage, participate in a meet & greet with their fans, and partake in more activities! Stay tuned for more details!
☆ Azumi Inoue & Yuyu ☞
Profile
Presented by NEW PEOPLE / Subsidized by J-LOP4

* © Tokuma Japan Communications Co.: "Tonari no Totoro" by Azumi Inoue (TKCA-72756) | "Kimi wo Nosete" (TKCA-72755)