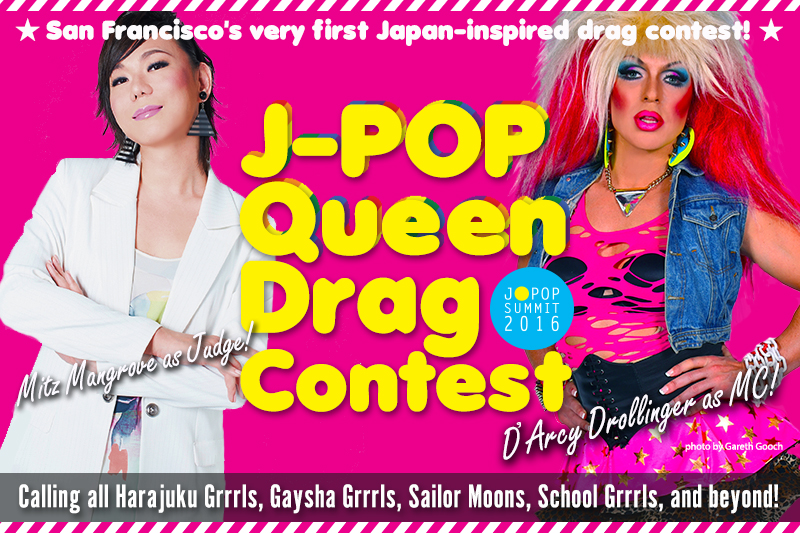 Submission Period: June 20th (Mon)-June 30th (Thur) IS NOW!!!
When: July 24th (Sun), 2016
Where: Fort Mason Center
☞ See SCHEDULE!

Calling all Harajuku Grrrls, Gaysha Grrrls, Sailor Moons, School Grrrls and beyond! Yes! We are! J-POP SUMMIT is very proud to announce the launch of our first ever "J-POP Queen" Drag Contest! We welcome D'Arcy Drollinger, San Francisco's hottest star in drag, as our MC, and Mitz Mangrove, Japan's prominent drag royalty, as our celebrity judge! Representing San Francisco as judge is Heklina, a career drag queen and the mother of SF drag events! More judges to be announced very soon!
Event Summary: 5 of the best Japan-inspired performers in drag from the preliminary video submission process are chosen to join the finals on Sunday, July 24th at the J-POP SUMMIT 2016 main stage. The finalist drag queen contestants will compete with their Japan-esque costumes such as kimono, school-girl, cosplay, and Harajuku-looks. The very first "J-POP Queen" of San Francisco is chosen by judges based on her costume, attitude and lip-sync performance.
The submission period for the videos are between June 20th – June 30th, so empower your inner-Japanese queen (or princess!) and start preparing your Japanese themed dramatic costume and your lip-sync routine! You may be crowned the very first "J-POP Queen!"
▼ D'Arcy Drollinger
▼ Mitz Mangrove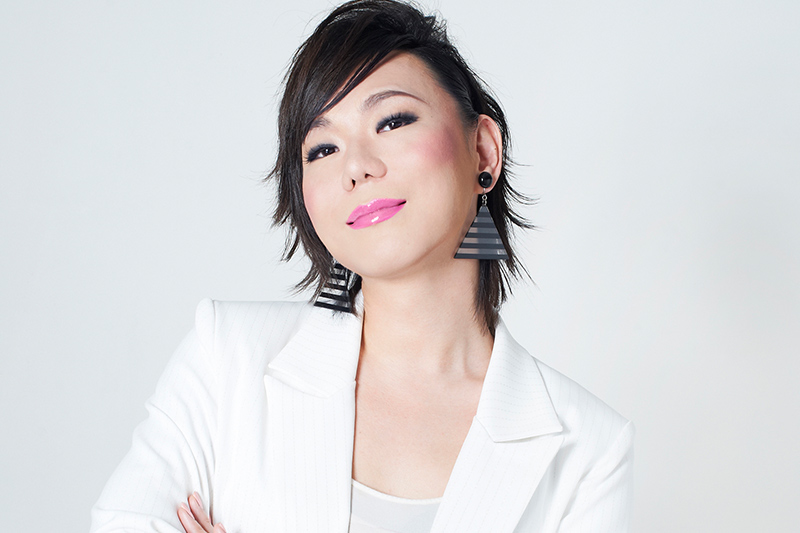 ▼ Heklina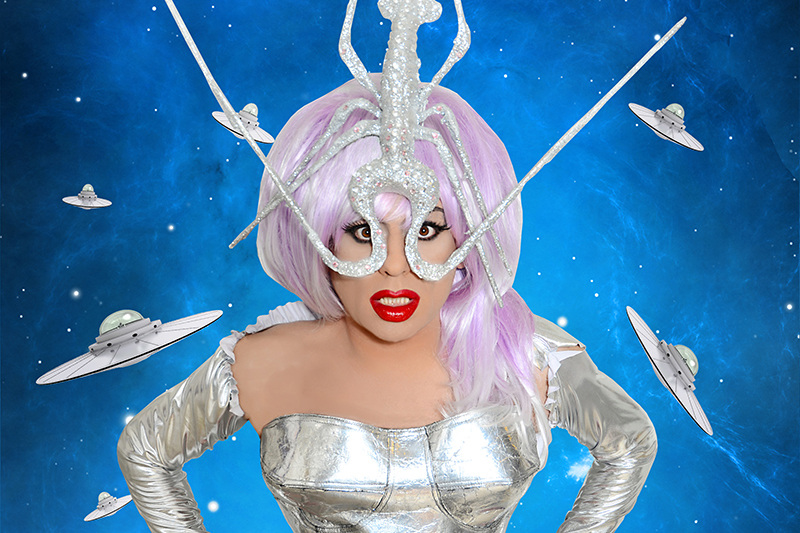 ▶ D'Arcy Drollinger
profile page
▶ Mitz Mangrove
profile page
▶ Heklina
profile page
☆ SUBMISSION DETAILS:
J-POP Queen Drag Contest invites finalists of the video submission to compete on the stage at our festival. Submission details is the following:
◉Submission Guidelines
▶ Event Date & Time*:
Must be able to attend the J-POP SUMMIT at Fort Mason Center, San Francisco on Sunday, July 24th, 2016 4pm – 6pm. (event time is 5pm)
▶Song for Contest: :
Any song with lyrics under 4 minute that you can lip-sync to. We'd love it if you take on the challenge and learn a Japanese song! (but no pressure) This is not a singing contest. It is crafty costume, lip-sync and performance piece contest. A dramatization contest.
▶ Your Costume and Persona: :
Your costume must be Japanese women and culture inspired. For example: kimono, anime characters, idol stars, or you can do something totally different. Please do not exaggerate racial features.
▶ Solo Performers ONLY
You may have backup dancers, however, only the front person is chosen as the winner. (i.e. no multiple J-POP Queens will be presented as winners)
▶G Rating: There are children in the audience!
The joy of a drag show lies in the unlimited form of expression. Our festival audience, however, range from small children to adults. Please no cursing, or inappropriate dance nor moves. Thank you for keeping it fun and clean for everyone!
▶ Video Details:
1) Film your performance in full costume (you will wear on stage) with a camera (or smartphone) to make an online video of your creative performance.*
*If you are not familiar with making a video of yourself – please ask friends or family to help you.
2) Be careful of the volume level in which you record so the sound doesn't get distorted.
3) You may sign up as a group or solo but only one submission, please.
4) Please fill out the ☞ SUBMISSION FORM HERE (video submission info included)
**The submission will be conducted privately. We will ONLY PUBLICIZE YOUR VIDEO once you are picked to be FINALISTS
< Video Title >
Please make sure your video title reads…
"J-POPSUMMIT2016-DragContest-YOUR NAME HERE"
< Video Quality>
We do not judge your video by its sound or video quality(Please make sure your video quality is good enough so we can see your moves! No fancy editing required!)
◉ Timeline and Due Dates
・6/30 Thur 5pm PST – VIDEO SUBMISSION DEADLINE
・7/6 Wed 5pm PST: All contestants chosen to be finalists will be directly contacted and notified thru email.
・7/8 Fri 5pm PST: All notified contestants must reply to confirmation email. (to start communication) Signed parental permission form (minors only) need to be sent to us. (if you do not make this deadline – you will be disqualified)
・Mid July: Finalists will be publicly announced.
◉ FINALISTS
Finalists will get on stage to perform at J-POP SUMMIT main stage on Sunday, July 24th, 2016, and will be chosen by San Francisco's leading drag queens and select judges. This year we will choose up to 5 finalists. Once you qualify, you will receive further information from the stage manager.
***Champion: If you win the competition on stage, you are the 2016 J-POP QUEEN, and you may be invited to be a judge at next year's competition (TBA). You will not be able to compete the following year, as you are participating as a judge.!
◉ Minors
Under aged performers need a signed parental permission form & accompaniment of parent/guardian at festival. Please download the form
HERE
!
---
◉ PRIZES
☞ SALON MIO MIO


"Fierce fabulous Harajuku make over for the winner or their best girlfriend!" (1st & 2nd place)
☞ LashSpot SF
Participation prize to all finalists! A special gift bag!
☞ Days to Smile


Winner receives $500 off accelerated orthodontic treatment! (1st place)
---
NOTE: Contest participants will be subject to festival photography and videos (official and unofficial), and the result may appear in j-pop.com, J-POP SUMMIT's future promotional materials, social medias, affiliated sites, and broadcasts of media partners and sponsors, as well as in NEW PEOPLE's Flickr albums. J-POP SUMMIT does not take responsibility nor action for unofficial photos and images taken in our festival ground. When you join us at the wardrobe screening or through submission, we assume that you understand these facts.
---
Buy Tickets
Schedule
---