POP TRAVEL AREA
When: August 8th (Sat) & 9th (Sun), 2015 | All Day
Where: Fort Mason Center
Come to the POP TRAVEL AREA and walk right into Japan! Experience the lavish yet humble authentic 'Ryokan' inns as if you're actually there traveling! The Kimono cosplay duo YANAKIKU will welcome you with traditional Japanese hospitality! Also, we will provide you very useful touring information about Japan.
◎ Read PRESS RELEASE: J-POP SUMMIT Showcases Japanese Travel At POP TRAVEL Attraction
---
★ AREA I: 'RYOKAN' PAVILION presented by Global Daily
At the Ryokan Pavilion, presented by Global Daily, JPS2015's Presenting sponsor, you will experience Japanese authentic 'Ryokan' (Japanese traditional inns)! You are invited to wear 'Yukata' and 'Geta' (Japanese kimono robes and wooden sandals) and visit several "mini-theatres,' where recreates Ryokan stays through a combination of HD video projection and life-sized scale model rooms. Enjoy a virtual tour to have you feel the essence of Japanese tradition in their architecture, food, guest appointments, and local attractions. At the entrance, the kimono cosplay duo, YANAKIKU, which was a festival favorite from last year's J-POP SUMMIT, will welcome you!
Also, Viator, a TripAdvisor company, is having a booth inside the Ryokan Pavilion. Viator is specialized at finding great tours and activities, and you can even book the Ryokan inns you will see at this event. Find out the exciting local tours and activities at Viator booth!
(Pavilion Image created by DHK Construction & Management, Inc./ Sean Yoshi Hanzaki)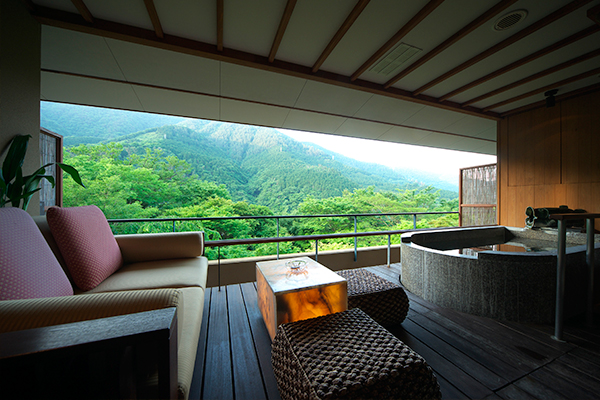 Hakone-Ginyu (Kanagawa)
Hirashin (Kyoto)
Ama no yado Maruzen (Mie)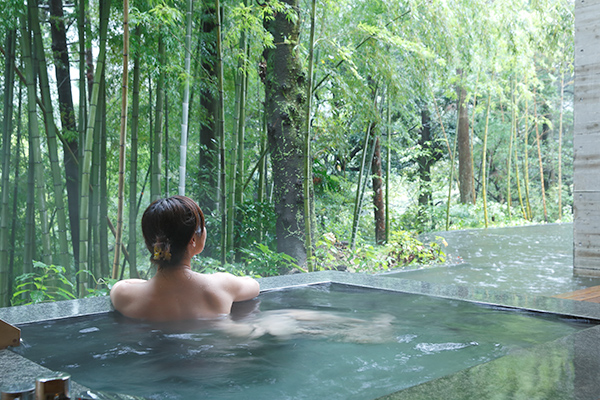 Kinnotake Tonosawa (Hakone, Kanagawa)
Taki no Yu (Yamagata)
Bettei Senjuan (Gunma)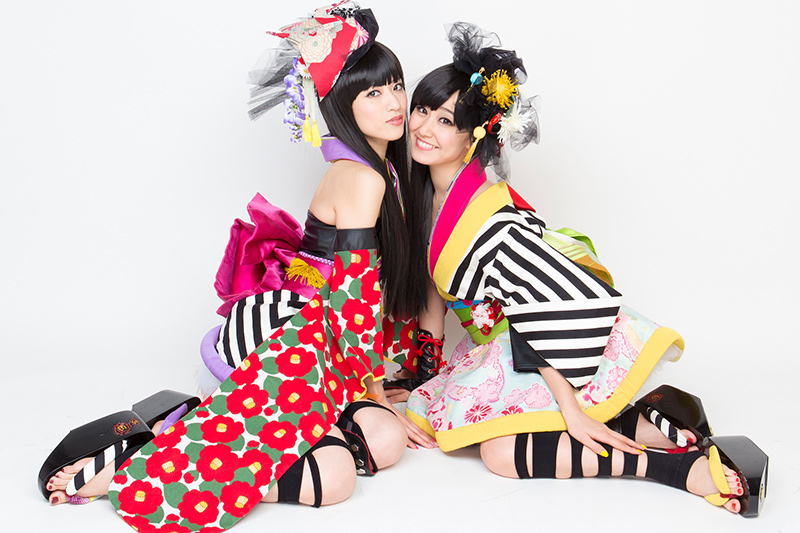 YANAKIKU
Viator
☆ Japanese Ryokans featured in the POP TRAVEL Area:
◉ Hakone-Ginyu (Kanagawa prefecture)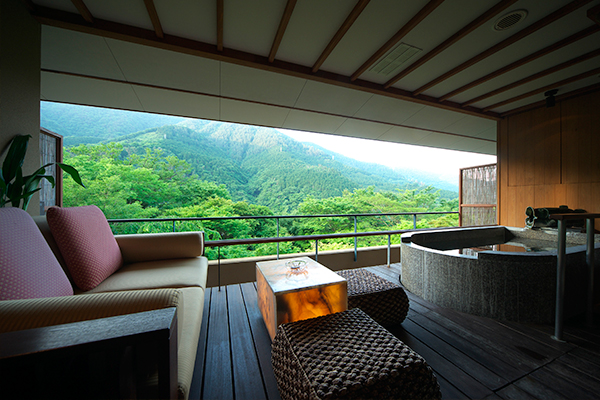 Hakone Ginyu
is located in the heart of Miyanoshita in Hakone, an area famous for its hot springs and the Hakone lakes. Rooms are designed for maximum comfort and relaxation and each one has its own private indoor and outdoor bathing areas where guests may enjoy the therapeutic properties of the Hakone's natural hot spring water.
Hakone Ginyu Official Website
---
◉ Hirashin (Kyoto prefecture)
Springtime, resplendent with snowy cherry blossoms. Summers tinted with the magical colors of the Gion Festival. The harvest moon and crimson leaves of autumn, and a powdery swirl of dancing snow in the wistful chill of winter. …Enjoy the passing of the seasons in the heart of Kyoto at Hirashin. Its location also makes a convenient choice for sightseeing, business, shopping, and more.
Hirashin Official Website
---
◉ Ama no yado Maruzen (Mie prefecture)
Maruzen
is located by the ocean in Toba City, in Mie, Japan. The establishment's name comes from the fact that its owner is an Ama (traditional Japanese woman pearl diver). An array of fresh seafood from the ocean right in front of the Ryokan is served to guests daily. This Ryokan also supports the movement to make Ama pearl divers listed as a World Heritage tradition.
Watch
HERE
Ama no yado Maruzen Official Website
---
◉ Kinnotake Tonosawa (Kanagawa prefecture)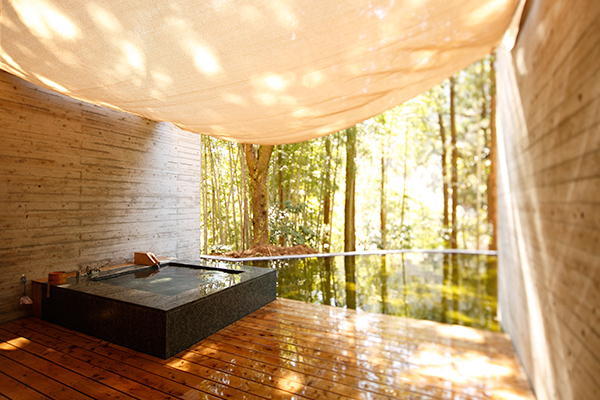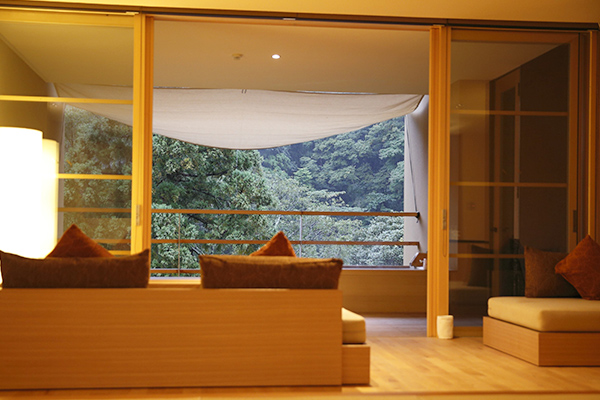 Kinnotake Tonosawa, an inn with hot-springs at Tonosawa, Hakone. All guest rooms are equipped with an outdoor bath!
A sense of liberation — That's something Kinnotake Tonosawa inn can offer you.
Kinnotake (literally 'Golden Bamboo') Tonosawa opened in 2013 in the middle of Tonosawa forest, hoping to create a Japanese inn where you and your valued person can enjoy the luxury of the sense of liberation allowed to adults.
When you cross the suspension bridge built over a ravine, the sound of nature makes you forget everyday life, and time starts passing slowly.
On each guest room terrace, in addition to an outdoor bathtub filled with "Golden" hot-spring water, you can relax on a sofa a bit larger than an ordinary one. All things at Kinnotake Tonosawa inn provide you with the supreme sense of liberation in a very slow passage of time.
This inn has cleared away existing preconceptions by, for example, not placing television sets and partitions such as closets in guest rooms. It is designed to bring you and your family/partners closer in a new unusual surrounding, full of nature.
Please experience the luxury of liberation at this inn.
Kinnotake Tonosawa Official Website
191 Tonosawa Hakonemachi Ashigara-Shimogun Kanagawa-prefecture
TEL 0460-85-9800 (JPN)
---
◉ Taki no Yu Hotel (Yamagata prefecture)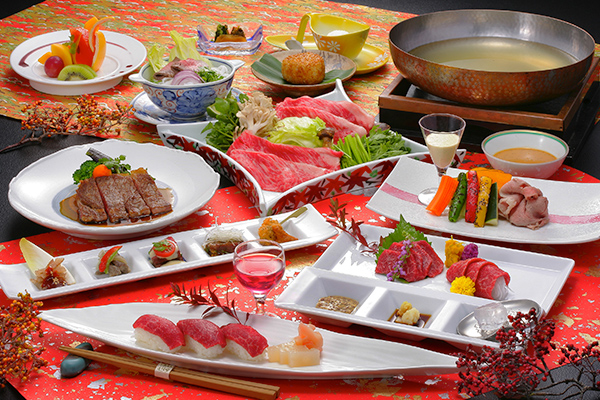 Tendo Onsen
boasts over 100 years of history as one of Yamagata's most well-known hot springs. Located just 15 minutes from the Tendo Train Station, the "Taki no Yu" Hotel is a popular ryokan that upholds the elegance and tradition distinctive of hot-spring guest houses, and offers hospitality that is suited to modern day needs. They offer 16 unique types of guest rooms, and among those you will definitely want to experience the room with a panoramic view of the Tendo townscape and a private outdoor bath, as well as the modern Japanese style room that combines a traditional Japanese guest room with a twin bed room. Various unique characteristics shine in the annex, "Ki no Hana". Of course, the room is great for two people, but it is perfect for a family stay as well. In addition, the beautiful traditional Japanese deluxe suite "Shiki Tei",  built in the traditional sukiya zukuri-style, is also enchanting. 
At the restaurant "Kurazen", you can enjoy the taste of Yamagata made from pesticide-free, homegrown seasonal vegetables in a private dining room. The large communal bath is perfect for those who want to enjoy the hot springs in a relaxed and spacious setting. The waters are also well-known for being mild and promoting beautiful skin." 
Yado Takinoyu
Official Website
1 cho-me 1ban 30 go, kamata-hon machi, tendo-shi, yamagata 994-0025
Tel: 023-654-2211  Fax: 023-654-2217  Email: webmaster@takinoyu.com
---
◉ Bettei -Senjuan- (Gunma Prefecture)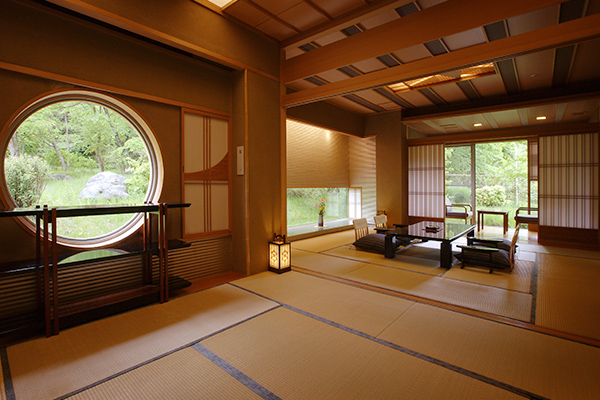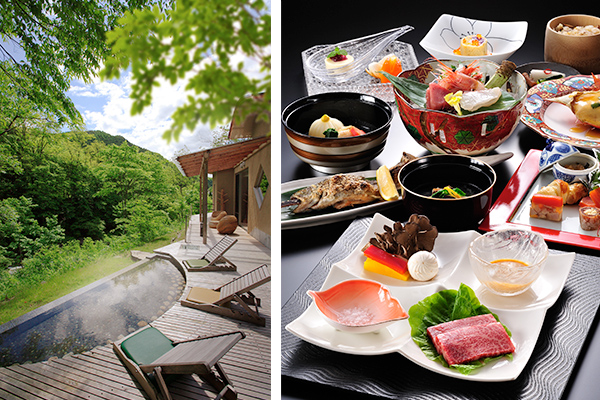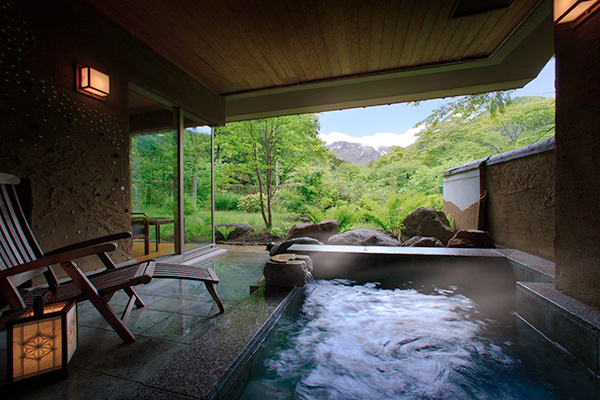 Japan Spa Luxury Hotel Senjuan
"Bettei Senjuan" is an annex of " Ryokan Tanigawa" in Tanigawa hotspring area of Gunma prefecture. All of the 18 guest rooms have private natural hotspring bathroom provided. Please relax and enjoy the breath of nature with us. 
Room type: 1 SP Suite ; 1 S type Suite ; 6 Japanese type A rooms ; 7 Japanese type B rooms ; 2 Western-Japanese rooms and 1 western stylish room.

Bettei "Senjuan" Official Website | Facebook
614 Tanigawa, Minakami-machi, Tone-gun, Gunma 379-1619
TEL: +81-278-72-2469 (direct to reservation desk)
---
☆ About YANAKIKU
YANAKIKU is a J-pop duo with a mission to share the wonders of Japan with the world!
The exotic and electrifying "YANA" and overload of cuteness "KIKU" are the originators of "KIMOCOS = Kimono meets Cosplay." Together on stage, this twin vocal unit delivers a must-see performance.
They will welcome you at the entrance of Ryokan Pavilion!
◉ Check out this page for their profile ☞ YANAKIKU Profile Page
---
☆ What is RYOKAN?

Ryokans are traditional inns found widely across Japan and have been a central part of Japanese culture for centuries. In the West they are comparable to a bed & breakfast, but Ryokans usually also offer dinner (and breakfast) and are located near "onsen" hot springs or other sightseeing spots and are popular getaway locations for tourists throughout the year. Ryokans are also patterned on classical Japanese houses and often contain "tatami" woven mat flooring accented by "shoji" screens (sliding paper doors), "zabuton" (sitting cushions), and floor sleeping on "futon" (sleeping quilts).
★ About Global Daily Co., Ltd.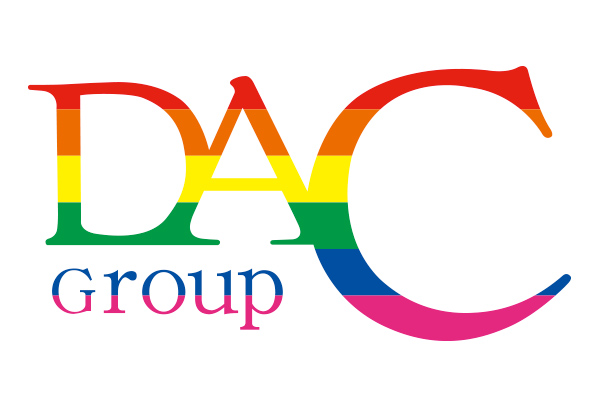 Global Daily

is a travel advertising agency that focuses on tourism to Japan.

The company collaborated with the 2014 J-POP SUMMIT as a platinum sponsor and developed the

JAPANKURU

project in the United States. This project now has 20 million fans worldwide, and presents edgy Japanese pop themed content globally.

Official Website: www.gldaily.com

★ About Viator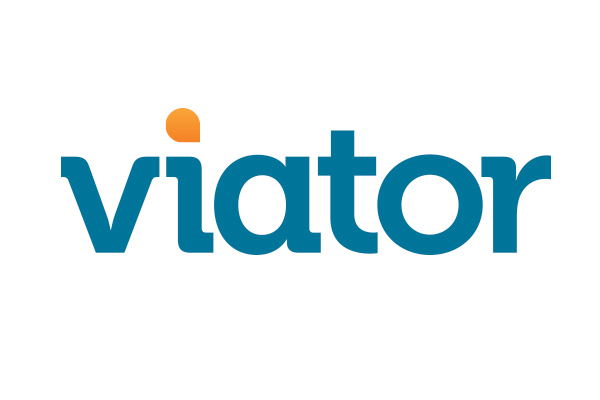 Viator

, a TripAdvisor company, offers "Insider" experiences for every kind of traveler. From traditional sightseeing tours to once-in-a-lifetime experiences, our travel experts provide a wide range of options in over 1,500 destinations worldwide to ensure your travel dreams become reality. With more than 600,000 verified customer reviews plus exclusive videos and insider travel tips, Viator makes it easy for you to discover and book the best things to do in a destination. And you can always feel secure in making your travel plans with us, thanks to Viator's 24/7 customer service and low-price guarantee.

Official Website: www.viator.com
---
★ AREA II: Japan Visitors' Bureau presented by JNTO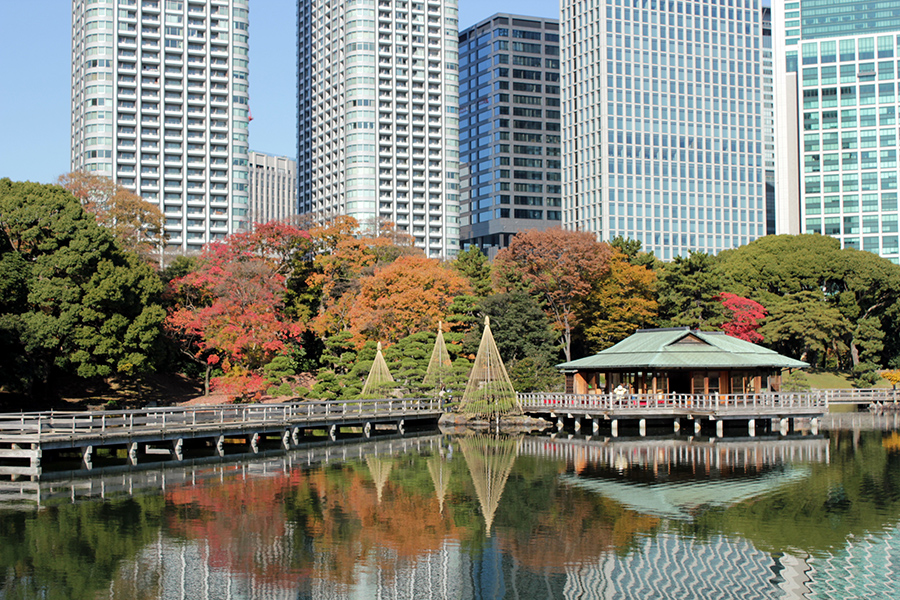 the Shiodome Buildings and Hamarikyu Onshi Park
Akihabara, Tokyo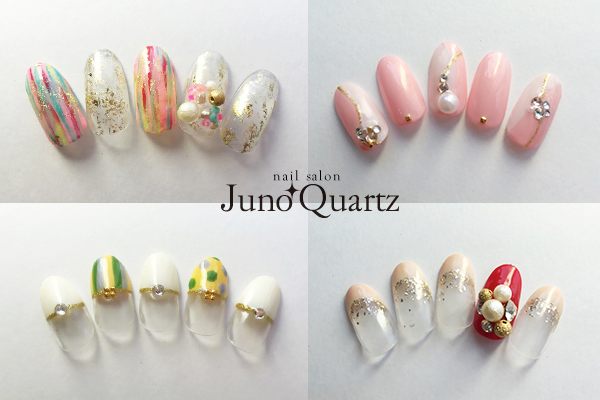 Deco-nail art



H.I.S: Win Round-Trip Tickets to Japan!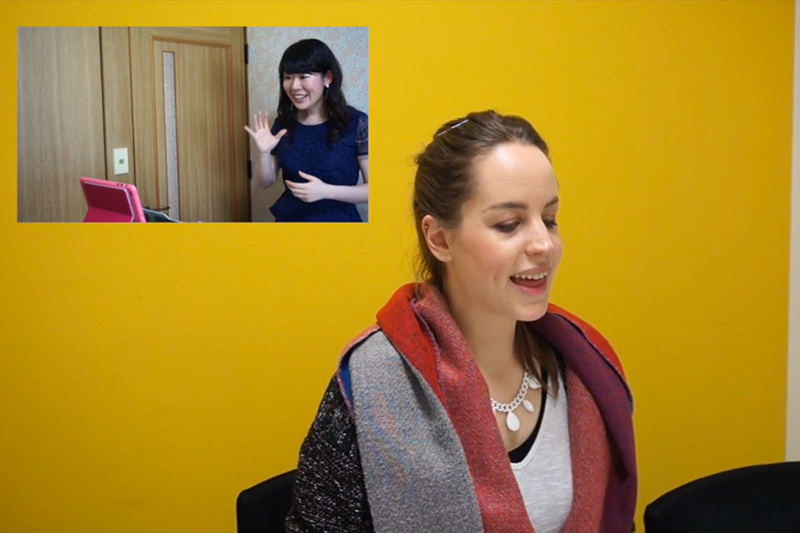 Cafetalk
Meet Go-Tourch Characters!



AEON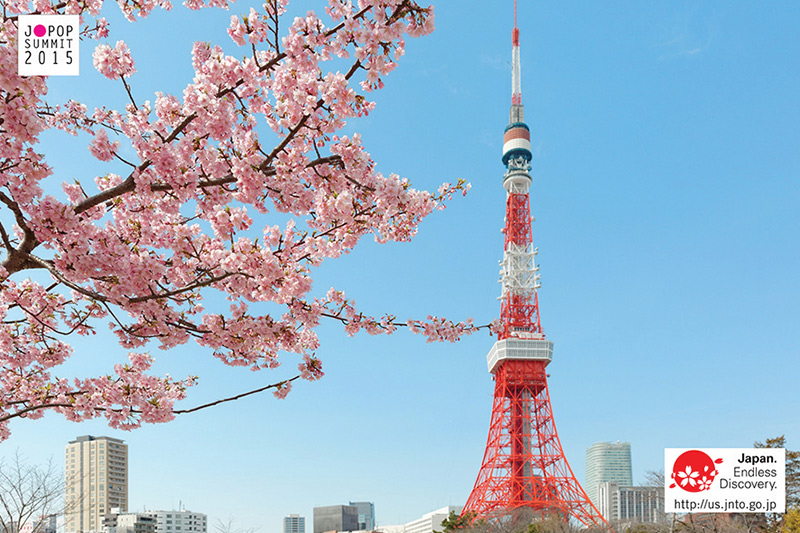 At Visitors' Bureau, we provide all tourist information that you need for a trip to Japan! You can even reserve a ticket and ryokans here with the professional supports by Nippon Travel Agency and H.I.S.. Also, enjoy photo booth by JNTO with the featuring beautiful depictions of Japanese scenery, a deco-nail art brought by Tokyo Convention & Visitors Bureau, and an appearance by the Japanese local mascot, YURU KYARA! Visitors are invited to learn more about Japan's latest pop and travel trends and also explore special limited edition J-Pop-themed travel packages.

★ JNTO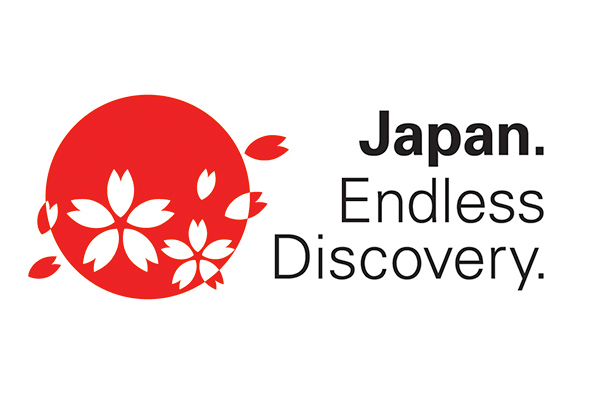 The Japan National Tourism Organization (JNTO)

is responsible for promoting travel to Japan all around the world. The organization performs a variety of activities to encourage and educate people about traveling to Japan. Please join JNTO to celebrate the 2015 J-Pop Summit and inquire about traveling to Japan! For more information, please visit:

Official Website

or

Facebook

★ Tokyo Convention & Visitors Bureau
★ Cafetalk

Cafetalk, a platform for online lessons, will be at J-POP SUMMIT 2015, giving demo lessons on Japanese, origami, and exercise! If you register for free with Cafetalk at the event, you can enter to win Cafetalk goods and items for studying Japanese! Come by the Cafetalk booth to learn something new![/ezcol_2third_end]


★ Nippon Travel Agency (NTA)

NTA will introduce the J-POP SUMMIT exclusive products at their booth (D8)! Also, the special unique Japan tour, visiting the hometowns of the Go-torch characters whom you see in this festival, are available! Reserve your tickets today!

★ Nippon Travel Agency : www.NTAAmerica.com

★ H.I.S.

Visit H.I.S. booth at Travel Area inside Fort Mason Center for a chance to WIN ROUND-TRIP TICKETS TO JAPAN courtesy of United Airlines and get advice on how to nab the best deals on tours, rail, hotel, and air in Japan!

★ Go-torch Characters!

Japan's favorite Go-torch Characters (sometimes called Yuru-chara) will be joining J-POP SUMMIT at Fort Mason Center! Meet Ossan (often called Chicchai Ossan), SANASENABONA from Sasebo, Japan, and the brother and sister bears from Hokkaido, KOAKKUMA & AKKUMA. They will also perform live on Fort Mason main stage both days, so don't miss them!

Go-torch characters: There are more than 3,000 Japanese mascots in Japan. Each of them represent a specific prefecture or city.

Chicchai Ossan | Sanasenabona | Koakkuma & Akkuma

★ AEON

AEON will exhibit their signature products – school bags and bicycles! Join AEON promo video quiz contest at AEON booth!

★ AEON Official Website: https://www.aeon.info/en/

日本語はこちら

日時:2015年8月8日(土)&9日(日)11時−6時
場所:フォートメイソンセンター

日本への旅行・観光をPRする特設エリア「POP TRAVEL AREA」が初登場!

まるで日本の旅館にいるような体験ができるJPS2015プレゼンティングスポンサー Global Daily presents『旅館パビリオン』。日本旅館をモチーフに作られた巨大旅館セット内では、昨年度のJ-POPサミットで大人気だったガールズデュオ YANAKIKUが玄関にてお出迎え、映像を通して日本旅館やその周辺の観光スポット、風景などを、浴衣を着ながら楽しんで頂けます。
更に、同トラベルエリア内には、日本の風景をバックに写真を撮ることができるスペシャルフォトブース、J-POP SUMMIT限定旅行パッケージが予約できるサービス、世界中で人気のご当地ゆるキャラの登場、女性に大人気デコネイルが体験できるコーナー他、東京都内の最新情報が得られるコーナーなどが常設される予定。

★★★ 見所1★★★
『旅館パビリオン』 presented by Global Daily Co., Ltd

プロジェクションマッピングの技術を活用し、日本旅館の体験イメージを「映像」を通して、ホテルでは体験できない日本が誇る「旅館」の全てお伝えします!日本旅館に宿泊する事で、感じられる「癒し」を映像化。Pavilionの中に建てられた、数か所のシアタールームにて鑑賞ができます。「温泉」「客間」「眺望」「夕食」「文化体験」そして、四季折々の季節の風景から、その旅館周辺で体験できる観光スポット、そして「朝食」。Pavilion内は、日本から持参のお洒落「浴衣」を羽織って、ゲタを履いてカランコロンと楽しんで頂きます。お香の香り漂う館内で、あたかも、その旅館に泊まっているかのような錯覚に誘います。

今回、Ryokan Pavilionのナビゲータに抜擢されたのが、2014年「J-POP SUMMIT」に初参加し、今年2度目の参加となる女性ガールズディオ「YANAKIKU」!日本文化の奥深さを世界に広めるコンセプトで結成されたYANAとKIKUが、旅館パビリオンの玄関口にてお出迎え、あなたをご案内します!

○ 参加旅館:箱根吟遊(神奈川)、箱根金の竹(神奈川)、海女の宿丸善(三重)、平新(京都)他多数!

◉ About Global Daily Co,.LTD.
(J-POP SUMMIT 2015 Presenting Sponsor)

日本へのインバウンドに特化した旅行広告代理店。世界各国から日本へ訪れる外国人を対象にソリューションやメディアを開発。中でも、J-POP SUMMIT2014でプラチナスポンサーとして出展した「JAPANKURU」プロジェクトは、今や世界にファンを20万人保有する大人気プロジェクトに。クリエイティブで斬新なアイデア・コンテンツを世界へ配信し続けている。

◉ About YANAKIKU
日本のカルチャーを世界に発信!がテーマのガールズデュオ。2014年にJPSに出演し、その後数々の海外公演を成功させてきた彼女たちが再びサンフランシスコにカムバック!☞ YANAKIKU プロフィール
---
★★★ 見所2 ★★★
最新の日本旅行、日本の文化に触れられる数々のエリアも充実!

日本政府観光局(JNTO)が初出展!円安の今はアメリカからの旅行者にとって日本を訪れる絶好のチャンス。JNTOブースで情報収集をして、日本旅行を楽しんでください。ブースでは訪日旅行情報の提供のほか、日本の風景をバックに写真を撮ることができるスペシャルフォトブースを用意します。小道具を使って、友達と、家族と訪日旅行を疑似体験してください。

日本政府観光局(JNTO)は、日本の政府観光局として、自治体、旅行業界関連企業・団体などと連携しながら訪日外国人旅行者の誘致活動を行っています。日本の観光魅力を海外に広報・宣伝するとともに、外国人旅行者が快く日本を旅行できるよう、受け入れ環境の改善に努めています。

☆ 東京都観光財団(Tokyo Convention & Visitors Bureau)
東京滞在時に利用できるとっておきのツアーやアクティビティーなどの情報も満載。新しい東京の魅力を見つけられます。更に!東京都観光財団のブースで アンケートに協力すると、とってもかわいいJuno Quartzによるデコネイルの体験もできちゃう!
TCVB Official Website | Official Tokyo Travel Guide

☆ ネイル協力店舗
Juno Quartz

☆ 日本旅行 (Nippon Travel Agency)
日本旅行はこのたび、J-POP SUMMIT限定旅行パッケージを日本旅行ブースに来て下さる方々だけにご提供!
日本旅行 Official Website
---