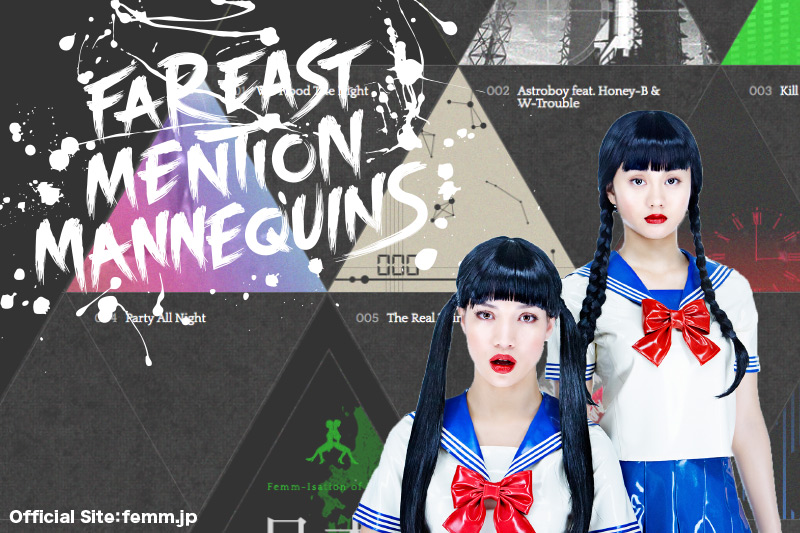 MISSION FROM FEMM'S AGENCY SYNDICATE
SEARCH FOR FEMM AT J-POP SUMMIT!!
FEMM'S Agency Syndicate are seeking for a talented AGENT. In order to become an AGENT, they need you to search for high-grade moving MANNEQUINS called FEMM. They would like to test your ability with this special mission at J-POP SUMMIT. Best agents will be announced during FEMM's live showcase at Fort Mason Center Main Stage on Sunday, August 9th at 5:45pm. Special award will be given so DON'T MISS OUT!!
FEMM will also be appearing at SOU・SOU booth and Iichiko Bar! Come find them!
☆ Entry is simple – please follow the instructions below:
◉ Entry Instructions – "SEARCH FOR FEMM"
・ SEARCH for FEMM appearing at various locations during J-POP SUMMIT (8/8 & 9) and take a PHOTO on your smart phone/android
・ Hints will be given on FEMM's official INSTAGRAM – PLEASE FOLLOW the account to participate in the event​
・ Post your photo on INSTAGRAM with #SearchForFEMM

◉ FEMM INSTAGRAM
Account Name: femm____
URL: https://instagram.com/femm____/
☆ HINT: FEMM will be dressed in one of the below costumes.


☆ About FEMM ☞ FEMM Profile Page