Kodansha Comics is excited to bring the manga world
to this year's J-POP SUMMIT!

☆ Here's a list of their events ☆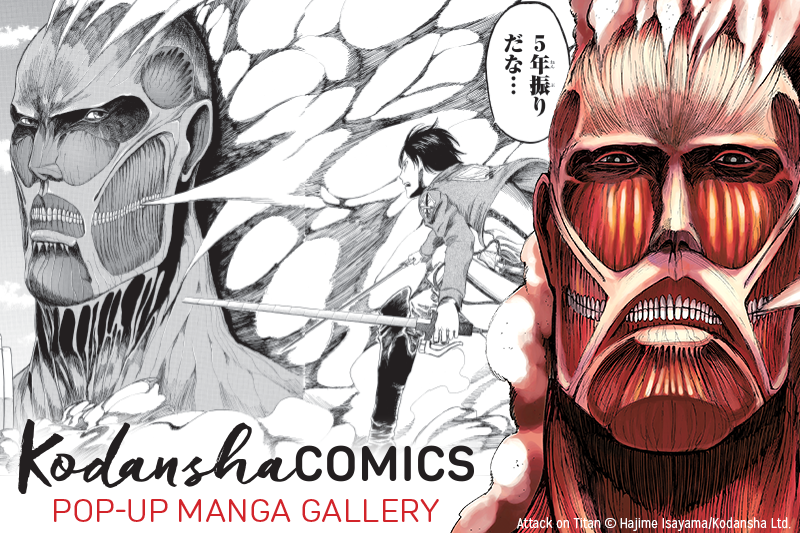 ◉ Kodansha Comics Manga Gallery
Aug 7 – 9 | 10am-6pm | Free Admission!
DG717 Gallery, 717 Market Street, San Francisco MAP
http://kodanshacomics.com/gallery/
Interactive pop-up manga gallery includes 40+ pieces of manga artwork from the history of Kodansha, from Akira to Sailor Moon to Attack on Titan…
Read more
Pop-up location:
DG717 Gallery
717 Market Street
San Francisco, California
Aug 7-9
 | 10am-6pm | daily
 free and open to the public
Online location:
coming soon right here at kodanshacomics.com
Featuring artwork from the pages of Ajin, Akira, Attack on Titan, Battle Angel Alita: Last Order, Fairy Tail, The Ghost in the Shell, The Heroic Legend of Arslan, Inuyashiki, Knights of Sidonia, Missions of Love, Noragami, Parasyte, Sailor Moon, Say I Love You, The Seven Deadly Sins, Space Brothers, xxxHolic, Yamada-kun and the Seven Witches, and Your Lie in April.
We prefer the art to speak for itself, but for those new to this, manga is Japanese comics. It's an offshoot of comics that's grown into its own unique brand, of schools and styles, so that it's become globally instantly recognizable—Japan's premier pop-culture art form. And whether it's publishing cultural touchstones such as Sailor Moon or Akira, or the latest international bestseller in Attack on Titan, Kodansha, one of Japan's largest publishers with an over-100-year-old history, has been synonymous with manga's growth and the manga world.
The Kodansha Comics Manga Gallery features some of the most important pages in the medium, such as from The Ghost in the Shell, as well as from its most recent hits—such as the much-talked-about Inuyashiki. With this exhibit, we celebrate some of that history—and celebrate the future as well, through digital eyes.   
Special thanks to Andrew Farago and the Cartoon Art Museum, Digital Garage, Ricoh, Fove, FUNimation, and J-Pop Summit 2015. Exhibit produced by Kodansha Advanced Media. 
– Message from Hiroaki Morita, former Editor-in-Chief of Weekly Shonen Magazine:
私たち講談社の漫画編集部門は現在、1年間で25万4000ページの漫画を生み出しています。おもしろい作品を読者に届けるために。ただそのことだけを漫画家の方々と一緒に考え続けていたら、結果的に日本で最大級の漫画編集の集団になっていました。その漫画作品はあらゆるジャンルを網羅し、あらゆる人間の感情を描きだし、世界中のあらゆる読者に対応できる作品群となっています。アメリカでもベストセラーとなっている「進撃の巨人」をはじめ、ここにあげた17作品はそのほんの一部にすぎません。このたび、アメリカの方々にも紹介したい漫画がありすぎて、電子書籍を販売するKAMというまったく新しい会社をつくってしまいました。この会社を経由して、一人でも多くの方に私たちが生み出した漫画にふれていただきたいと思います皆様のご支援いただければ幸いです。
Every year manga artists and editors from Kodansha Ltd. make 254,000 pages of manga. All we want is to produce the most exciting manga we can for readers. As a result, we have became one of the biggest manga publishing companies in Japan. Our titles are richly diverse in genre, expressing the gamut of human emotions and can be enjoyed by people from different backgrounds all over the world. The manga series we are showcasing here, including bestsellers like Attack on Titan, are just a small portion of our list. In fact, there are far too many manga series we want to introduce to fans in America. Therefore we've even made a new company to help people discover manga in a new way in this digital era. Hopefully, we can encourage even more people to enjoy manga. 
---


◉ #CaptureTheTitan with RICOH THETA!
Aug 8 & 9 | 10:30am-8:30pm | J-POP SUMMIT Pass available HERE
INTERACTIVE Pavilion, Fort Mason Center
Don't miss your chance to see the Colossal Titan in person. Come capture Attack on Titan in a whole new way using RICOH's groundbreaking spherical THETA camera. Look for #CaptureTheTitan on Twitter!
☞ THETA GALLERY
---


◉ Manga x Virtual Reality
Aug 8 & 9 | 10:30am -8:30pm | J-POP SUMMIT Pass available HERE
INTERACTIVE Pavilion, Fort Mason Center
Experience manga in a whole new way with the VR Comic Reader developed in collaboration with FOVE.
---


◉ Space Brothers #0 Animation Film Screening
Aug 9 | 12:00pm | Ticket $13 available HERE
New People Cinema, 1746 Post Street, San Francisco MAP
Watch the anime based on the Kodansha Comics manga!
Visit Japan Film Festival of San Francisco Official Page JFFSF.org for more details.